Mix
Outside.. Alpaca roaming in a subway car in Russia "video"
Amman Today
publish date 1970-01-01 03:00:00

A video clip of the moment the alpaca entered a metro car in the Russian capital, Moscow, was spread on social media, and eyewitnesses were able to film the clip, which quickly spread on social media platforms in Russia and the world.
According to the Russian "Sputnik" agency, the animal is unfamiliar to many in Russia, especially since its source is the Latin American country of Peru.

animal in the metro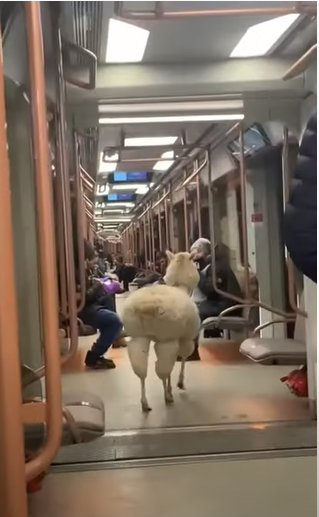 Alpaca in the subway, Russia
In another incident, a wild boar – earlier – made a funny trip in Hong Kong, which caught the attention of Hong Kong residents, as the pig took the subway twice, while elements of the Department of Agriculture were chasing it through the city port..
The animal managed to escape from its pursuers, slipped under the ticket control barriers at the Quarry Bay metro station and then managed to board one of the trains, according to the UAE website Al Ain..
The pig boarded a half-full train, surrounded by stunned passengers while an employee was trying in vain to catch him with a blue cloth. Officials reported that the animal got off the train after a few stops and then moved to a second metro train, and the track of this train was diverted to a train depot where members of the Department of Agriculture managed Who captured him and then released him back into the wild?.
.
#Alpaca #roaming #subway #car #Russia #video
Jordan Miscellaneous news
Source : اخبار الاردن