Mix
Different ideas for using old pillowcases.. Clothes for children's toys and shoe storage
Amman Today
publish date 1970-01-01 03:00:00

During that period, many women arrange and clean their homes, in preparation for the celebration of Eid, and during that period there are many things that women notice and are confused about what they receive or donate, but there are authentic things that can be recycled again, including pillowcases, as they are made of Cotton or silk, which are expensive fabrics, so recycling them revives them again, and prolongs their life, perhaps not as a pillow cover, but for other different uses. Therefore, "The Seventh Day" reviews some other uses that can be implemented with old used pillowcases, including:
Clean ceiling fans
Old pillowcases can be used to clean high ceiling fans.
A container for washing children's toys
You can collect your little one's toys that can disturb the washing machine Put soft toys and small washable toys in a pillow case before putting them in the washing machine, then secure the end by tying it so it doesn't spin loose It will protect fragile toys and protect the washing machine .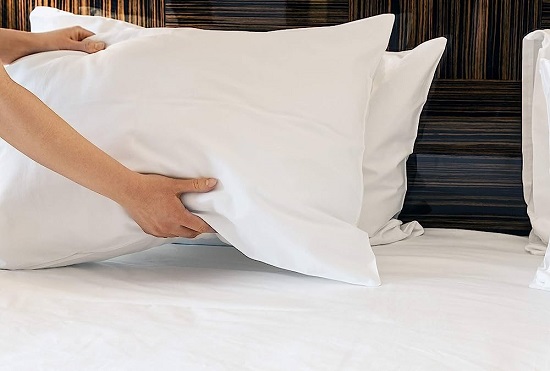 pillows
Washing shoes
One of the things that cause the most chaos in the washing machine are sports shoes, especially when the spin feature is turned on strongly. All you have to do is put the shoes and coaches in the washing machine and let the washing machine do its job without fear for them and the shoes.
Make a floor pillow
One of the things that children love to do most while playing is making imaginary houses. Instead of using the pillows that are used, you can make these pillows with old bags, either by stuffing them with old clothes, or with sponge.
Make a dress for your child
You can make colorful dresses using old pillowcases, using pasting, or sewing by hand, so cut the bottom part of it and install ribbons from the top so that you can hold the top of the shoulder.
pillows
Bib kitchen
Use pillowcases, tie them with a satin ribbon around your waist, and wear them while cooking or cleaning the house as a kitchen apron.
Storage box cover
You can make a lining out of old pillowcases, line your storage box, whether you store vegetables or toys, or even store pillows, and use this project as an incentive to organize your belongings.
.
#ideas #pillowcases #Clothes #childrens #toys #shoe #storage
Jordan Miscellaneous news
Source : اخبار الاردن