Mix
A shocking moment for a circus acrobat who fell while performing a show in Mexico. Pictures and video
Amman Today
publish date 1970-01-01 03:00:00

The cameras documented the terrifying moment of a circus acrobat falling from an air hoop on an ice rink, according to the British newspaper "Daily Mail", where the circus pioneers gasped audibly when acrobat, Mia Gonzalez Soto, landed embarrassingly after losing her grip in Circus Fantasy World On Ice in Tampico, Mexico on January 10.
The footage shows Mia performing hoop stunts as she swings around the room to the tunes of a song from the movie. Frozenbefore dropping more than 16 feet, or more than 5 and a half meters, to the ground.
After her fall, the video clip showed the stuntwoman lying motionless on the ice rink as officials turned off the lights and staff rushed to her aid, then the audience clapped in hopes of resuscitating her.
The terrifying moment of the girl's fall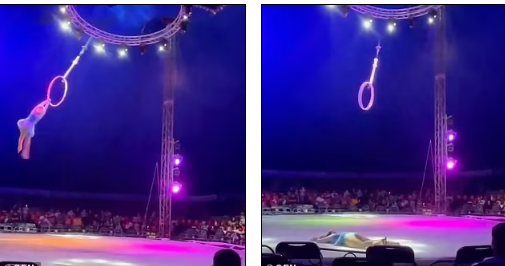 The moment the girl falls
Take her to the hospital for treatment


She was taken to a hospital in Tampico after the horrific accident, and the circus said in a statement: "Among our audience was a paramedic and she was given first aid voluntarily. We will be forever grateful to her."."
"The fall was dramatic, however, there were no fractures or internal damage," she added.
The girl survived the accident


It is worth noting that Mia was able to get out of the hospital and is now in good health.Local media reported that after a short break, the circus show continued as planned.
.
#shocking #moment #circus #acrobat #fell #performing #show #Mexico #Pictures #video
Jordan Miscellaneous news
Source : اخبار الاردن