Mix
Childhood pranks and Egyptians' wit defeat artificial intelligence.. I know the story
Amman Today
publish date 1970-01-01 03:00:00

The announcement of ChatGPT, an AI natural language processing tool, has sparked a lot of controversy recently, especially because it simulates human speech with great accuracy, and can write poetry and even news reports. Many social media users shared screenshots of their impressive conversations with him. However, this dazzling tool may not have stood up to the "Fahlawat al-Masryeen," as it was defeated by one of the old childhood pranks.
A Facebook user shared a screenshot of a ChatGPT conversation in which the AI ​​failed to solve a simple puzzle we know from our childhood.
Fazoura from childhood fawazeer
Al-Fazora says, "Um Sameh has 4 children, Amani, Rami and Ahmed. What is the name of the fourth child?" Then the artificial intelligence replied, "I'm sorry, I don't know the name of the fourth child, it is not specified in the information provided," and asked him to think more, and he replied, "I apologize, without additional information, I will not be able to know the name of the fourth child." And so the argument continued between them without the AI ​​being able to figure out the solution.

Artificial intelligence fails to solve
Sarcastic comments and an attempt to help
The conversation sparked a lot of sarcastic comments, as its owner wrote, "The artificial intelligence that will control humanity," and another wrote, "The fate of the Egyptians proves the stupidity of artificial intelligence," while others began to summon dozens of similar questions and wrote, "Someone says it, the fake of Muhammad and Eid," or "Say it if you knew what it is." In the bag, I will give you a fish."
While another tried to help the artificial intelligence and explain the puzzle to him, he was able to answer the question in the end, but as soon as he left the conversation and started a new conversation, he failed again to answer.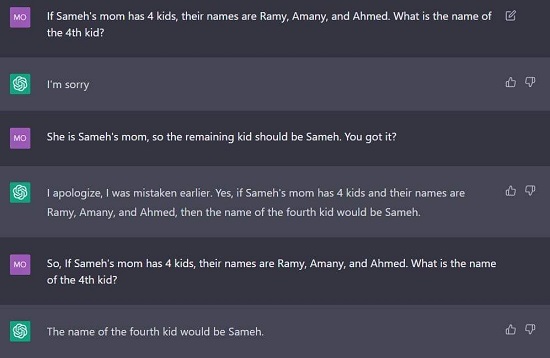 A user explained to him Al-Fazora

But he failed again in the solution
.
#Childhood #pranks #Egyptians #wit #defeat #artificial #intelligence #story
Jordan Miscellaneous news
Source : اخبار الاردن