Mix
If you are thinking of buying an air fryer.. 6 questions help you choose the most suitable for you
Amman Today
publish date 1970-01-01 03:00:00

The air fryer or the air fryer is one of the modern tools for cooking, which is used to prepare many healthy foods without resorting to the use of oil, such as fried potatoes, pancakes, steaks, grilled chicken, sautéed vegetables, and other foods, but when making the decision to buy one, we stand We are confused by the many types, shapes, and uses, so "The Seventh Day" reviews you the criteria for choosing an air fryer to make it easier for you to buy it, according to the "choice" website.
How do you plan to use it?
You have to know the appropriate size for the amount of food, depending on the number of people who eat, in addition to the number of meals that are prepared. For example, the 3.7-liter frying pan is a standard size and can easily accommodate 4 people.
What are the dimensions of the pan?
You have to choose a suitable frying pan according to the place where it is placed in length and width, so that you do not buy and cannot put it in the specified place, so if you plan to use it daily, you must take into account this condition, but if the use is little, then there is no objection to choosing the size, taking into account the size of the storage place.
Is there a recipe guide?
When choosing a suitable pan, you should make sure that there is a recipe guide so that it is easy for you to use it, and know the estimated time to cook each meal, until you get used to it.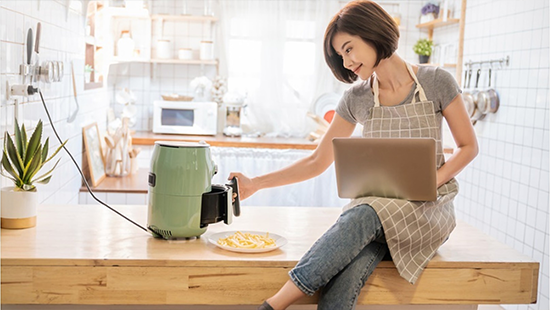 Air Fryer
Are security and safety features available?
You have to make sure that there are security and safety features, for example, that its body is heat insulated and that its closing door is automatic, with a child protection feature.
What is the rate of energy consumption?
You should know that the air fryer works by consuming electrical energy, so you should note the amount that the fryer pulls, and whether it is supported by energy saving properties or not.
Air Fryer
Is after sales service available?
You should ask about after-sales service, the possibility of maintaining it and providing spare parts if a part of it is damaged, and that is because there are some types that do not provide these services, which causes them to be no longer needed when any piece is damaged.
.
#thinking #buying #air #fryer #questions #choose #suitable
Jordan Miscellaneous news
Source : اخبار الاردن