Mix
How was Bella Hadid's stunning dress made at Fashion Week?.. Learn the story of the "spray" fabric
Amman Today
publish date 1970-01-01 03:00:00

When the attention grabs a luxurious dress, embroidered with craftsmanship and bears many details, our fascination increases when we know how many long working hours it took to work on this dress. However, the French Coberni brand's fashion show at Paris Fashion Week 2022 witnessed a dazzle of another kind when the famous model Bella Hadid wore her dress in front of the stunned eyes of the audience on the catwalk, as the dress was "sprayed" on her within several minutes, and the spray turned in seconds into a raw material Amazing fabrics, just like ordinary fabrics, what's the story behind this "spray cloth" or "spray cloth"?
The story of the spray cloth
According to the American "Daily News" website, this is the first appearance of the aerosol cloth invented by Manel Torres, founder of the British "Fabrican" company, and he obtained a patent for his invention two years ago. He developed a material that dries instantly upon touching any surface and used it to create a layer of non-woven fabric to bring a new and innovative concept to fashion.
The Coberni brand said in a statement that the material could be used to make innovative garments that can be washed, re-worn and even combined with diagnostic devices that can monitor the wearer's health.
Bella Hadid's dress while sprayed and after it was completed
The technology consists of short fibers bonded together with polymers, biopolymers and solvents that transfer the fabric in liquid form and then evaporate when the spray reaches the surface.
The texture of the cloth can be changed according to its synthetic and natural fibers, such as cotton, linen, polyester or nylon.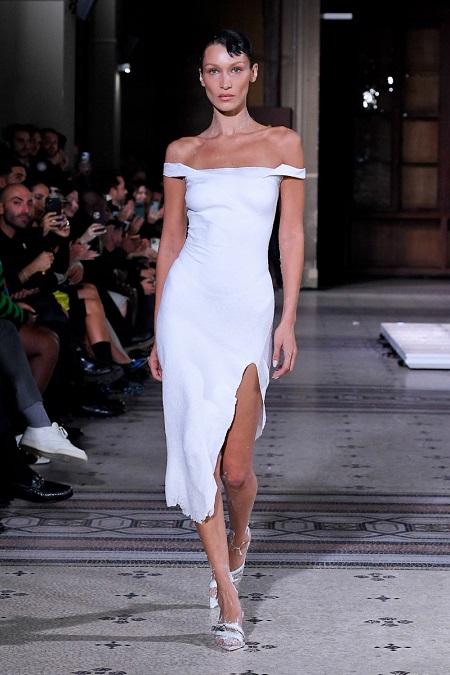 Bella Hadid's completed dress
Torres created the product so that it "magically fits the body like a second skin with the look of clothes." The company said on its website that it produces "sprayable fabric from an aerosol can."
And Torres was one of the two who sprayed fabric on Bella Hadid during the fashion show. The spraying and tissue formation took 8 minutes.
.
#Bella #Hadids #stunning #dress #Fashion #Week #Learn #story #spray #fabric
Jordan Miscellaneous news
Source : اخبار الاردن