Mix
Tourmaline and opal.. Know the gemstones that stimulate good luck in October
Amman Today
publish date 1970-01-01 03:00:00

Some are looking for everything that brings him luck, to enjoy his life and his work, and everything throughout his life, whether on a professional or emotional level, and it is known that in energy science that each month has its own gemstones that increase the luck of its newborns, so it reviews the "seventh day" Some lucky stones in October according to the site "gemsociety" As follows:
opal stone
Energetics and scientists have determined that one of the lucky gemstones for the month of October is the opal.

opal stone
pink tourmaline
Pink tourmaline is the October birthstone, loved and beloved by all for its beauty and astonishing variety of pink tones. of pink tourmaline.
What remained of her treasure trove of pink tourmaline was used to make carvings, pink tourmaline is naturally occurring and contains a variety of elements useful in energetics, most tourmaline in jewelry is made of a mineral called ElbaitePink tourmaline is formed from long, hexagonal crystals that are beautiful and shiny when exposed to light.

pink tourmaline stone
clear opal
Transparent opal is the traditional October birthstone, and was its main habitat in India, and is the first source of opal that was brought to the Western world, where it was called in the Sanskrit language of some tribes of India "opala", and is characterized by its changing colors in rainbow colors, a phenomenon Known as the "play of colours", the Bedouins once believed that this stone brought rain and planting, the ancient Greeks believed that transparent opals offered protection from diseases, and Europeans have always preserved opals to be a symbol of purity, hope, and truth.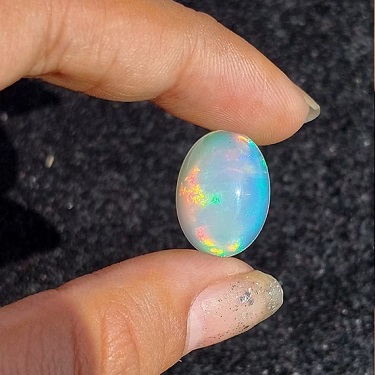 clear opal
.
#Tourmaline #opal #gemstones #stimulate #good #luck #October
Jordan Miscellaneous news
Source : اخبار الاردن