Mix
Car chase caught a Brazilian scamming 7 women from dating sites.. video
Amman Today
publish date 1970-01-01 03:00:00

A man suspected of defaming at least 7 women through his dating app has been arrested as police chased after him in a high-speed pursuit in broad daylight in the streets of the southeastern Brazilian state of Sao Paulo, according to the British "Daily Mail" website.
Renan Gomez, 35, reportedly met the victims – aged between 34 and 40 – on a dating app and dated them for a while before cheating on them and disappearing..
Authorities were finally able to locate Gomez on a street in the São Paulo municipality in São Bernardo do Campo, and a video clip showed several police cars chasing Gomez before crashing into his vehicle and causing him to crash.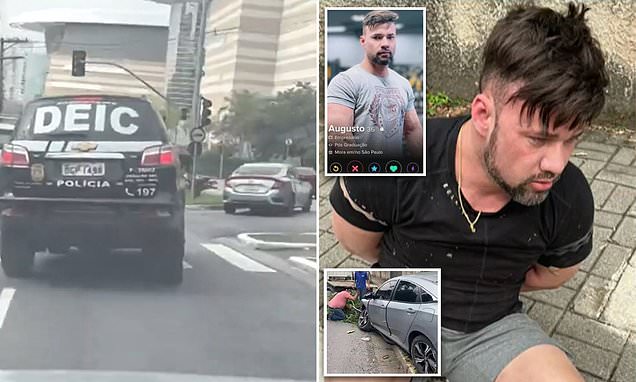 The man after his arrest
Gomez, who has been in demand since December 2021, created multiple accounts on dating apps like Tinder And the Inner And the Happn And the Lovo under the pseudonym Augusto Keeler.
"He presents himself as a caring and caring man in the absence of the family, maintaining personal encounters, including attending the victims' home and meeting family members, and gaining their trust," said lead prosecutor Erica Bucci..
Gomez allegedly targeted upper-middle-class women and told them he worked as an engineer. He was also saying he was the son of German parents who lost their lives in a car accident in Aratoba, São Paulo..
.
#Car #chase #caught #Brazilian #scamming #women #dating #sites #video
Jordan Miscellaneous news
Source : اخبار الاردن