Mix
Not the first time .. a French adventurer breaks a record with a dangerous and breathtaking experience "video"
Amman Today
publish date 1970-01-01 03:00:00

A French adventurer named Nathan Boleyn has broken the world record for the longest elevated line, a 2,200-meter (about 1.4 mi) suspended rope trip in Mont Saint-Michel, a UNESCO World Heritage Site in France. Break the record, take Paulin Camera Insta360 X3 Take a tour and capture breathtaking views from a height of 100 metres.
According to what was published by the site insta360Pauline describes the experience, "It's incomparable to any feeling when I'm on the rope it's almost impossible to describe what I feel sometimes I feel really powerful when I do it, but sometimes I also feel so small and I feel like nothing… Being able to do that makes me feel with freedom."
The French young man goes through his frightening experience at an altitude of 100 metres
Pauline documented the dangerous experience with a video clip that was praised by the pioneers of the communication sites, who considered what the adventurer did a "daring experiment." Nathan Boleyn, whose name appeared in the headlines in 2017, was able to walk 2,198 feet on a tightrope suspended between Trocadero Square in Paris and the Eiffel Tower He set a new altitude record when he walked 7,218 feet over Mount Saint Michel, a UNESCO World Heritage Site in France.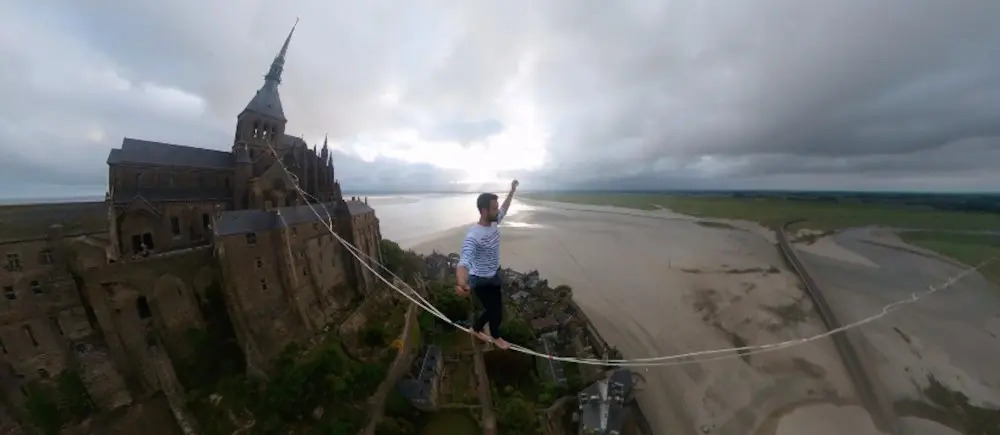 A Frenchman embarks on a terrifying adventure by walking on a rope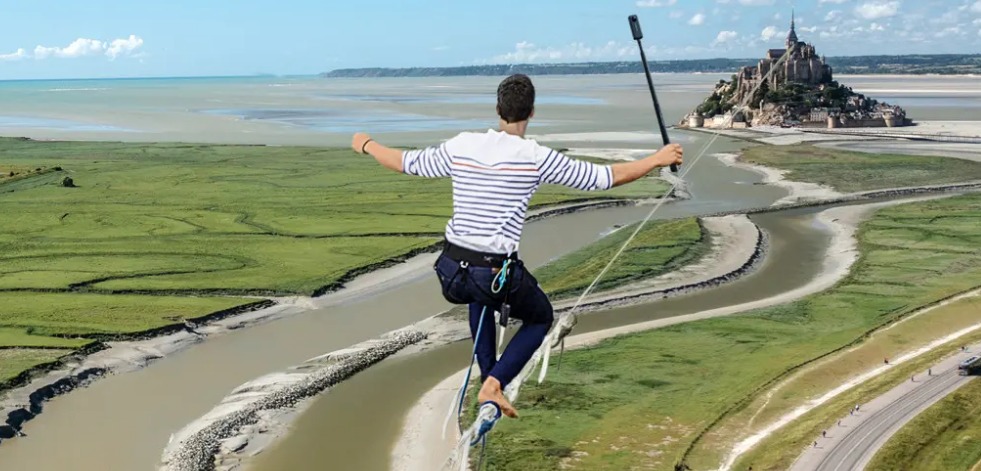 French sets a new record
This was not the first attempt by the French adventurer Nathan Boleyn, to carry out his dangerous experiment, as he previously achieved a record, last May, by walking on a tightrope for more than two kilometers, as Pauline walked a distance of 2,200 meters on a rope suspended between a crane and the famous monastery on the island of St. Michel, and according to what was reported by the French news agency – at the time – that "Paulin" did not complete the road completely, as he got off meters from the end point "for safety reasons," according to what his escorts said..
And Pauline's spokeswoman, Laura Chang, added that he had reached the stop sign and thus broke the record..
Pauline set the previous record in 2017, when he crossed a distance of 1662 meters on a rope over Cirque de Navacellesa steep valley in the south of France, and according to his team he exceeded this number last year in Sweden, but the trip to Mont-Saint-Michel was the longest.
.
#time #French #adventurer #breaks #record #dangerous #breathtaking #experience #video
Jordan Miscellaneous news
Source : اخبار الاردن