Mix
Her name is the Goblin.. An Australian fisherman finds a scary fish with a human-like smile "Photos"
Amman Today
publish date 1970-01-01 03:00:00

An Australian fisherman went on an unofficial fishing trip when he came across a strange looking shark Trapman Bermagui The image of the strange fish on Facebook, and people were very shocked to see the sea creature that appeared with sharp teeth and a human-like smile.
According to what was published by the site diatoday Trappenman Bermagui caught the shark off the coast of New South Wales, and the image of the strange shark sparked many comments on social media, where some described it as an evil fish, while others said it smiles as we do.
Find a strange sea creature
According to the assistant director of research at the Coastal and Marine Laboratory at Florida State University, Dean Grubbs, the fish is a type of "golf" shark, and this type of shark is spread, according to Grops, in the Indian and Atlantic oceans and parts of the Pacific Ocean. It has two fins, a short dorsal, and one higher than other sharks.
Males of this type of shark can reach 2.6 feet in length, while females can reach 3 feet in length. The gulin shark is in danger of extinction, knowing that it is highly targeted for its distinct oils and meat.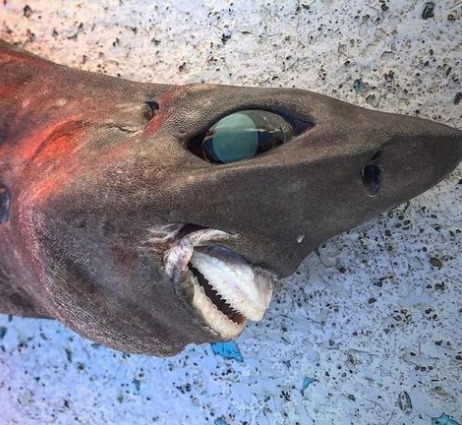 Elf shark
On the other hand in the sea world, the pioneers of social networking sites shared a video clip documenting the moment of the death of a great white shark, after it violently attacked divers who were inside an iron cage. Instagram", moments of a violent shark attack on the cage, in which two divers are holed up.
The pioneers of social media circulated a video clip that documented the moment of the shark's death, where the divers severely and violently inside the iron cage, and the video clip, which was published by the Brazilian surfer, showed these moments, as the shark attacked them despite trying to hole up in the cage.
.
#Goblin #Australian #fisherman #finds #scary #fish #humanlike #smile #Photos
Jordan Miscellaneous news
Source : اخبار الاردن