Mix
A new biography confirms that Megan Markle did not respond to Camila's assistance to integrate with the family
Amman Today
publish date 1970-01-01 03:00:00

A new royal biography claims that the Duchess of Sussex Meghan Markle was unresponsive to Queen Camilla's advice to her when she first joined the British royal family. She did her best to welcome her into the family, but her advice failed with Megan, who was unresponsive to advice, according to the British "Daily Mail" website.
According to the report, Levine claims that Camilla was eager to help Meghan in the beginning of her relationship with Prince Harry, after she herself struggled to be accepted by the royal family, and they warmly welcomed her when she first arrived in London. who was then Prince of Wales – enjoyed the company of Megan and talked a lot with her about theater and the arts.

In an effort to help the Duchess of Sussex balance and find her place among the royal family, the Queen advised her on how to deal with the pressure of being in the public eye and the scrutiny she would face as a prominent member of the royal family, and Levine quoted an unnamed source who told her at the time: She didn't want to see anyone suffer, and she was in love with Megan."
Despite Camilla's efforts, Levine claimed the Duchess "sounded bored" and preferred to go her own way in carving out a role for herself within the family. It was collected by survivors of the Grenfell Tower fire in 2017.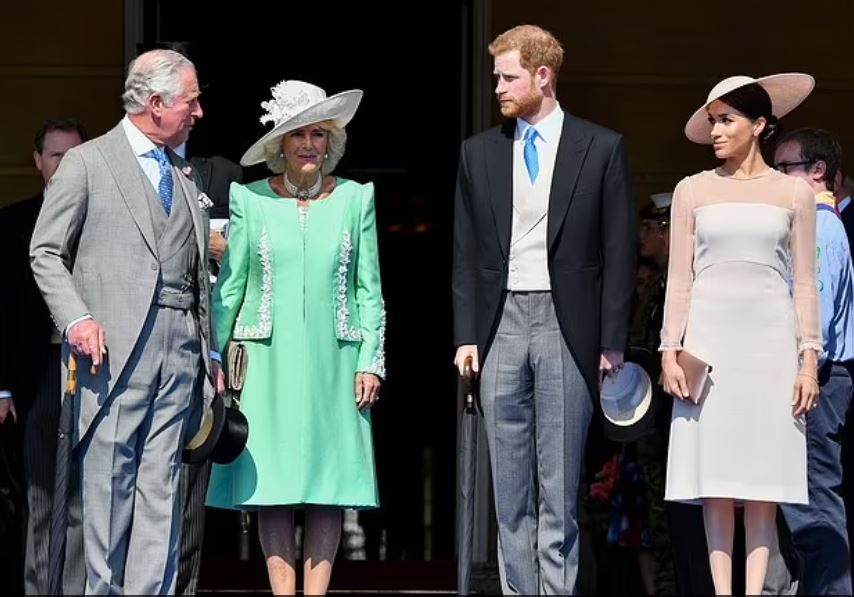 Meghan, Harry, Camilla and Charles
On the other hand, it is noteworthy that the appearance of Megan Markle, the wife of Prince Harry, at the funeral of Queen Elizabeth, raised the astonishment of many people, especially those who followed the disputes between Megan and her husband and the royal family, beginning with their abandonment of their royal duties and their travel to America and speaking on the media program Oprah Winfrey and accusing them of the British royal family Racism, and other matters that increased tension and differences between them, so many closely watched the reactions of Princess Megan at the funeral of Queen Elizabeth II, especially her dealings with family members.
In this regard, body language expert Jesus Enrique Rozas, known as the body language man, analyzed how Kate Middleton and Prince William interacted with Megan Markle and Prince Harry, as he said that Megan seemed to her as she looked at Kate as tense and very scared, and this was evident by her movement of her neck, According to the website, "cheatsheet".
Rosas added that Megan's tension was very clear, and this could be due to her feeling of anxiety and fear, noting that her feelings appeared in her right hand, arm, and feet, as he said: "Foots do not lie."
The body language expert noted that the feet play an important role in body language, as the position of each person's feet tells a different story, for example, Kate's feet were planted firmly and confidently, but Prince Harry's feet were placed in a way that seemed to indicate his desire to leave, as He turned his feet away, as if he was about to get out.
.
#biography #confirms #Megan #Markle #respond #Camilas #assistance #integrate #family
Jordan Miscellaneous news
Source : اخبار الاردن