Mix
Royal expert: Prince William can't simply forgive his brother Harry for his actions
Amman Today
publish date 1970-01-01 03:00:00

A royal expert has claimed that Prince William simply cannot forgive his brother Prince Harry for his actions towards the family during the recent period that came after he and his wife abandoned his royal duties, and Katie Nicholl, author of a book The New Royals – Legacy of Queen Elizabeth and the Future of the Crown The new Prince of Wales, 40, is unlikely to leave his past, despite appearing in a united front with the Duke of Sussex, 38, during a tour of Windsor after the Queen's death.
Speaking of Dan Wootton, Nicole said: "William simply cannot forgive Harry, not just for his behaviour, what he did and how he did it, but for what will happen in the near future."
According to what was published by the "Daily Mail" website, Nicole addresses the deep division between the Sussex family and other members of the royal family after Harry and his wife Megan Markle decided to step down from their position and senior members of the royal family, and start a new life in the United States in 2020, and in her interview Controversial with magazine The Cut Meghan said it took "a lot of effort" to forgive and hinted she could "say anything" in what some saw as a veiled threat to the royal family, and also said it was her "mere presence" she and Harry upset the hierarchy dynamic before they stepped down as senior royals. Members of the royal family.
On the other hand, the presence of Megan Markle, the wife of Prince Harry, aroused the astonishment of many people, especially those who followed the differences between Megan and her husband and the royal family, beginning with their abandonment of their royal duties and their travel to America and their speaking on the media program Oprah Winfrey, accusing them of racism in the British royal family, and other things that increased their The tension and differences between them, so many closely watched the reactions of Princess Megan to the funeral of Queen Elizabeth II, especially her treatment of family members.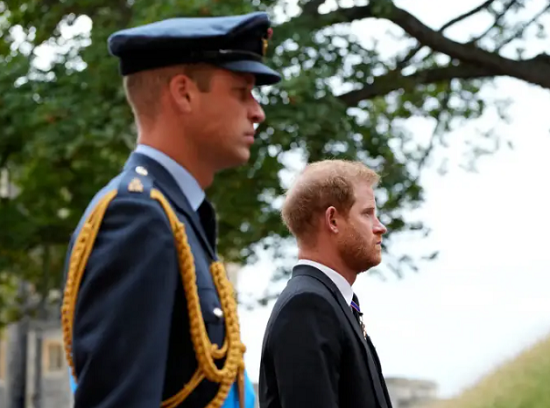 Prince Harry
Body language expert Jesus Enrique Rozas, known as the body language man, analyzed how Kate Middleton and Prince William interacted with Megan Markle and Prince Harry, as he said that Megan appeared to her as she looked at Kate as tense and very scared, and this was evident by her movement of her neck, according to the website. " cheatsheet ".
Rosas added that Megan's tension was very clear, and this could be due to her feeling of anxiety and fear, noting that her feelings appeared in her right hand, arm, and feet, stressing by saying, "Foots do not lie."
.
#Royal #expert #Prince #William #simply #forgive #brother #Harry #actions
Jordan Miscellaneous news
Source : اخبار الاردن