Mix
Documentary alleges Prince Harry turned off his phone in the face of his brother William during a hot call
Amman Today
publish date 1970-01-01 03:00:00

A new French documentary claims that Prince Harry "hanged off the phone" in a call with Prince William, after he was confronted with witness statements depicting Meghan Markle as a vicious bully with female employees, according to the British newspaper, "Daily Mail".
And William, who did not really love his brother-in-law much, became so angry at his brother's insistence to protect his wife from criticism that he jumped in a car towards Kensington Palace to go and confront Prince Harry, and the sensational allegations are contained in a documentary by the most famous television news outlet in France. .
TV shows BFM The emails, which were revealed as part of the Duchess of Sussex's privacy claim against the Post, were published on Sunday in an investigative documentary series called "The Red Line: William and Harry…the Enemy Brothers".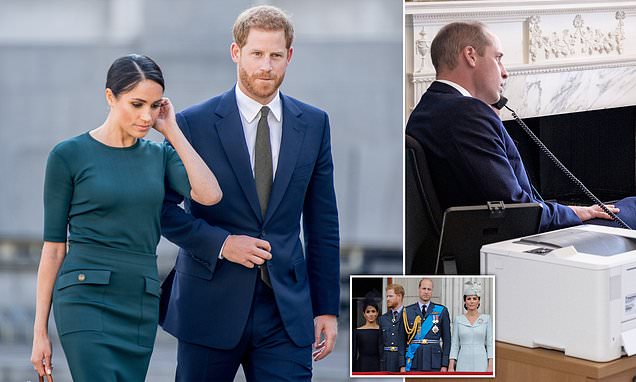 Prince Harry and Megan
The documentary claims that the traumatized staff resigned from the royal family and created a WhatsApp group called the Sussex Survivors Club, and the documentary was scheduled to be shown this week, on the 25th anniversary of the death of William and Harry's mother, Princess Diana, Princess of Wales, in a car accident. In Paris, on August 31, 1997.
The series heavily blames Meghan's behavior for being at the center of the split between William and Harry, and says the Duchess of Sussex, 41, used her position in the royal family to bully and intimidate staff during their stay at Kensington Palace with Harry, 37, and there is an email in the fall of 2018 written by Jason Knauf. , former communications secretary to Harry and Meghan, to Simon Case, then private secretary to the Duke of Cambridge, first shed light on the scandal..
Mr Knauf claims that Meghan has bullied two personal assistants outside the home, and one of the employees – who has not been named – is referred to using the letter Y, and the documentary claims: 'The Duchess appears intent on always having someone as a target. Y She is trying to undermine her self-confidence.
.
#Documentary #alleges #Prince #Harry #turned #phone #face #brother #William #hot #call
Jordan Miscellaneous news
Source : اخبار الاردن