Mix
After her fame, euthanasia threatens Norway's walrus because of her fans.. Video
Amman Today
publish date 1970-01-01 03:00:00

The Norwegian authorities announced that they are studying the possibility of resorting to the euthanasia of the female walrus "Freya", who became the star of the summer season in the Oslo Strait, because of the danger it poses to her life and the lives of people who come to see her..
The Norwegian Directorate of Fisheries stated, in a statement, that the "Freya", which weighs about 600 kilograms, is still attracting many interested people, despite the constant calls to stay away from it and not to disturb it, and the directorate attached its statement to a picture showing a group of onlookers in the immediate surroundings of the animals..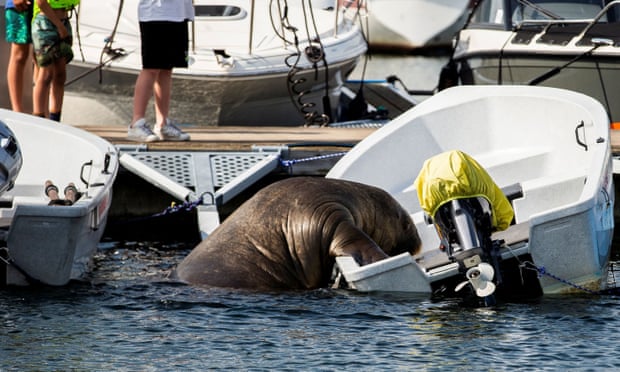 A spokeswoman for the Norwegian Directorate of Fisheries, Nadia Gedini, confirmed that the reckless behavior of the public and the lack of respect for the authorities' instructions could endanger lives, and added, "We are currently studying additional measures, and euthanasia could be one of the options actually offered."The British newspaper, The Guardian, reported.
If you guys are having a bad day, try to go to Youtube and search "Freya Walrus Norway".

This majestic creature is now my spirit animal lmao. https://t.co/oEbASxiCM6

— Zakwan Khidzir (@zakwan_khidzir) August 7, 2022
Walruses usually live below northern latitudes in the Arctic, but "Freya", the name of a goddess of love and beauty in Scandinavian mythology, has been in the waters of the Norwegian capital since July 17..
But despite the instructions issued by the authorities, the curious still annoyed "Freya", as they swim near her whereabouts, or get very close to her, sometimes with children, to photograph her, according to the Directorate of Fisheries..
The authorities indicated that walruses do not usually pose a danger to humans as long as they are at a distance from them, but if they disturb them and cannot get enough rest, they may feel danger and resort to attacking them.
.
#fame #euthanasia #threatens #Norways #walrus #fans #Video
Jordan Miscellaneous news
Source : اخبار الاردن