Mix
For lovers of reading.. Ideas for arranging bookshelves in innovative ways.. Pictures
Amman Today
publish date 1970-01-01 03:00:00

Everyone has bookshelves in their apartment, but lovers and lovers of reading like to have bookshelves in an organized and easy-to-handle shape to allow them to reach books easily, and thus create a "decoration" that is comfortable to the eye, and some people may feel confused, about how to put things on those shelves and how to do Arrange them correctly, and there are some tips that are taken to display books, according to the website architecturaldigest.
Stick to the rule of three
When it comes to design using three of each element but in different sizes, it creates a balanced look, and the creativity is in how to display the existing elements and different sizes in an attractive and elegant way, for example with 3 vases, with different heights and widths and materials, such as glass, wood and ceramics, and includes large coffee table books , picture frames, boxes and candles.
Show similar items on both sides
When making a small library, you should not place a certain type of items on top of each other or under each other on the shelf, the shelves should be made interesting and visually attractive, for example, you can put a plant on the top shelf, skip the shelf below, and put another plant on the third shelf down on The other side to give great visual enjoyment.
Offer with Relevancy
You may want to decorate cookbooks in lively ways by placing kettles or jugs and glassware, because this gives them a beautiful appearance, and what you offer should be logical and harmonious with each other, such as children's books, some fun items should be placed next to them such as globes and stuffed animals, and a room Living requires family photos and carvings next to coffee table books and old books.
Some green spaces
Placing green spaces gives vitality to the design. Growing and intertwining plants, whether real or manufactured, are a must, because they are on the shelves, and low green shoots can be chosen to give the bookshelf some dimension.
art show
Artwork can be displayed with books on a shelf in the background or foreground, giving bookshelves a holistic and grouped look, and is inexpensive and gives an elegant look to a small library.
Group books by size
Books can be grouped into shelves by size to create small groups, across the shelves, books can be arranged vertically by height and plants can be used to keep small books in place.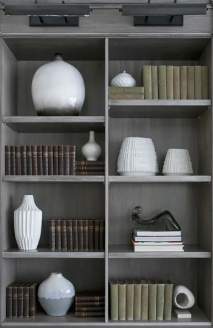 3 . base formatting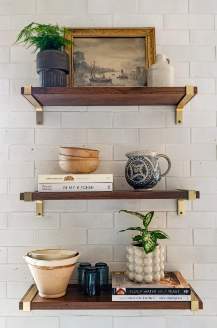 Arrange by alternating similar items
.
#lovers #reading #Ideas #arranging #bookshelves #innovative #ways #Pictures
Jordan Miscellaneous news
Source : اخبار الاردن