Mix
Birth between heaven and earth.. A couple helps a female passenger deliver her baby on a flight "Photos"
Amman Today
publish date 1970-01-01 03:00:00

A vacationing couple helped give birth to a baby after a female passenger on board went into labor during a nine-hour flight to the Philippines. The plane called an urgent call to "medical professionals" on board.
The pair, who are working as nurses, were heading to the Southeast Asian island nation in the western Pacific and took their first flight from London, Heathrow, to Kuwait before starting the second leg of the trip to Manila. Cheryl also claims that she needs help after giving birth at just six months, according to the British newspaper, "Daily Mail".
Cheryl and Rowell, who were helped by two other nurses who were also on the plane, said: "When I tried the internal examination, I was surprised and delighted that the mother was already in labor."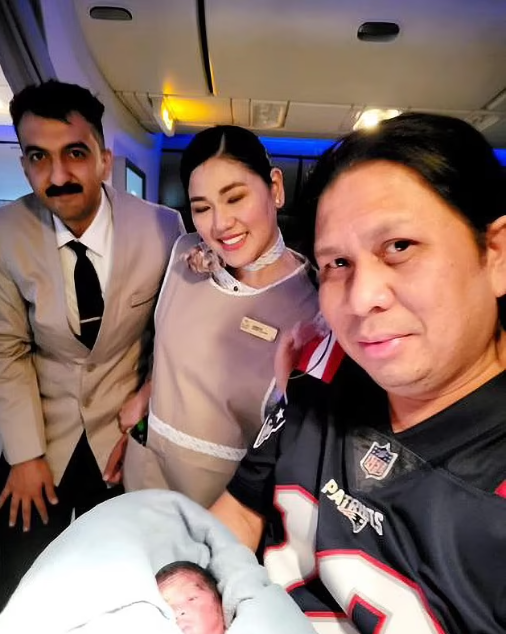 After the baby was born on the plane
After the baby is born
I screamed for Roel to help her and prepare her and within a few moments the baby was out. Cheryl said, "He held the baby while I was coming in and focused on the mother and the placenta.. I was a bit nervous because it was so scary the baby was about 24 weeks old so the size was about the same size My husband's palm, it was too small.".
"This is the first time I have helped a mother on a trip and I didn't have the full medical equipment, so we had to improvise and think innovatively," the nurse says. "It was the most exciting and at the same time the most humbling experience for me and my husband in the entire nursing profession, we We cater to patients three to four times a week, but this experience is different and unique."
.
#Birth #heaven #earth #couple #helps #female #passenger #deliver #baby #flight #Photos
Jordan Miscellaneous news
Source : اخبار الاردن