Mix
Hamwat's quarrel .. "New York Post" reveals a cold war between Victoria Beckham and her daughter-in-law
Amman Today
publish date 1970-01-01 03:00:00

The New York Post claimed that there was a complete cold war between Victoria Beckham and her new daughter-in-law, Nicola Peltz, in light of the problems between them that did not appear to the public until months after the legendary wedding that the duo held at the Peltz family mansion.
A close source stated about their relationship, saying, "They can't stand each other and don't talk to each other. The wedding backlog was horrible for their relationship," and continued, "Peltz didn't want her mother-in-law to interfere in the wedding plans and didn't tell her about any detail… The communication between them was weak. Extremely".
The source also revealed that the fractured relationship between Nicola Peltz and Victoria had affected the Beckham family negatively, adding: "This petty drama between them did not stop and moved to the Beckham family."
The source says Peltz – the actress who is the daughter of New York billionaire Nelson Peltz, non-executive chairman of Madison Square Garden among others – did not want her mother-in-law to be close.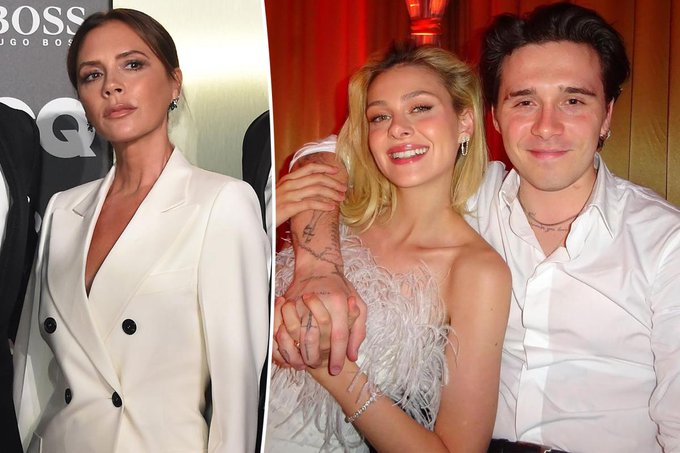 Victoria Beckham and her daughter-in-law
In another context, Victoria Beckham – earlier – returned to her roots for singing, as she performed a song during a karaoke session while she was on a family vacation in France, while her husband, David, 47, filmed a band member. Spice Girl The former 47-year-old performs the famous 1997 tune Stop From their album SpiceworldAccording to the British newspaper, the Daily Mail.
The fashion designer looked elegant in a black dress, as she passionately displayed her vocal skills at a bar in St Tropez, and Victoria showed off her confidence on stage as she remembers all the original moves, while her family participated as supporting dancers..
Her supportive husband, David, commented on the footage: "Karaoke night with One & Only Posh SpiceThe popular '90s girl group, which includes Mel C, Mel B, Jerry Horner and Emma Bunton, reunited on tour in 2019 without Victoria.
.
#Hamwats #quarrel #York #Post #reveals #cold #war #Victoria #Beckham #daughterinlaw
Jordan Miscellaneous news
Source : اخبار الاردن