Mix
4 uses of banana peel, including shoe polish and reduce eye puffiness
Amman Today
publish date 1970-01-01 03:00:00

Banana is one of the fruits that you rarely find someone who does not like it, in all its forms, whether eating it in its natural form or in fruit salad or in jelly and other different forms of it, and during these uses there are many banana peels that end up in the trash, although It has many ingenious uses for it worth trying to experiment as soon as possible, so the seventh day reviews these uses according to the site " purewow" As follows:
shoe polish:
Banana peels are a completely natural way to maintain the shine of leather or faux-leather shoes. All you have to do is rub the inside of the peel on your shoes and you'll be surprised when the cracks and dirt are gone. After you're done, wipe off any leftovers with a soft cloth.
Moisturize your feet:
Banana peels contain amino acids and vitamins A And theB And theC And theEAnd they all work great on dry, itchy skin Just rub your cracked heels and tired toes and strengthen them by rubbing the inside of the peel on the soles and any other dry areas Just rinse off any remaining sticky substance and repeat the process for a few days, it will be silky smooth .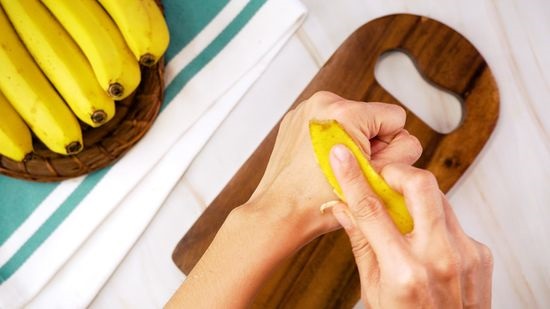 Skin Moisturizing
Reduce puffiness under the eyes:
There is a reason why many beauty and skin products are made with banana peel tincture, as it is great for lightening and smoothing the skin because it is loaded with vitamin E A moisturizer known to help fade dark spots and scars. It is also a powerful antioxidant that can protect against oxidation, which leads to premature aging. Just chop the peel into smaller pieces that fit well under your eyes. Apply to your face for 15 minutes to half an hour, then rinse with your daily cleanser.
Reduce eye puffiness
Helps get rid of acne:
Banana peel has antibacterial properties that can help treat problem areas faster and even prevent new spots from forming in the first place. Just rub the inside of a slightly ripe banana peel on the affected areas gently, and rub until the peel begins to turn a sticky brown color. Then leave it on your skin for five to 10 minutes before rinsing it off.
.
#banana #peel #including #shoe #polish #reduce #eye #puffiness
Jordan Miscellaneous news
Source : اخبار الاردن