Mix
International Day of Friendship.. Egyptians set the most wonderful example of friendship from goodness to business
Amman Today
publish date 1970-01-01 03:00:00

Man searches throughout his life for a loyal friend who agrees with him in many qualities and who will be a support for him in times of distress, and also shares with him in times of joy. Friendship relations can turn into a successful relationship and last for a long time. for friendship.
Uncle Sabry and Syed, a 60-year-old friendship
Omar, the friendship between Hajj Sayed Amin and Hajj Sabr Fawzy, 60, and it continues until now, as they were neighbors in one of the villages in Assiut Governorate, and they got to know each other since their early childhood, and they joined elementary school, and the days separated them, and Sayed was forced to leave Assiut Governorate and head to Alexandria, due to work conditions , But this did not affect their friendship, as Sabry, who worked as a transport driver for an oil company in the Alexandria-Assiut line, was keen to visit his friend Sayed weekly, write to him and be with him on various occasions.
Another picture of Haj Sabry and Sayed
And about the reason for the strength of the friendship between them, Sayed said to "The Seventh Day": "Sincerity and respect are the reason for the strength and continuity of the friendship between us," while Sabry said: "Love and respect are the reason."
Yara and her friends spread the Nubian culture by subtraction
Yara Mohamed, who has a Bachelor's degree in pharmacy, and her friends were keen to spread the Nubian culture through a proposal design, imprinted with Nubian words and drawings, as she said: "I and two of my friends, Miral Arafa and Yara Ehab, our goal is to spread the Nubian culture, through the design of a proposition with symbols. Nubian or designs that reflect the Nubian culture, and we named each veil with Nubian names, and we made a detailed, simplified explanation of each veil and its name.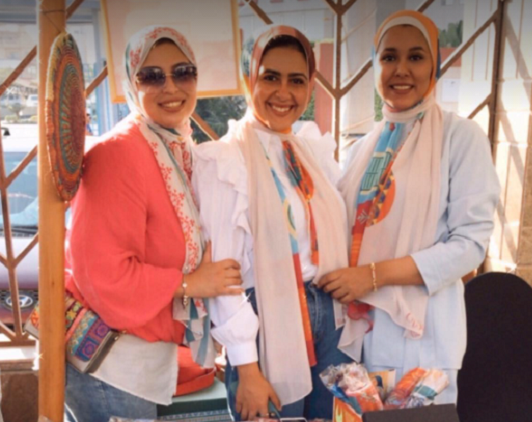 Yara, Yara and Miral
Yara and her friends intend to continue spreading the Nubian culture, through offerings, but through various designs, along with other products, and she also dreams of participating with them in opening a shop.
Shajn and her friends distribute food to Corona patients


Shajan, who works as a teacher in a school, participates with a group of her other friends who are poor, needy and poor patients, especially Corona patients, who may not find anyone to help them for fear of transmission of infection, in cooperating with her friends and collecting money to buy, cook and distribute food to them.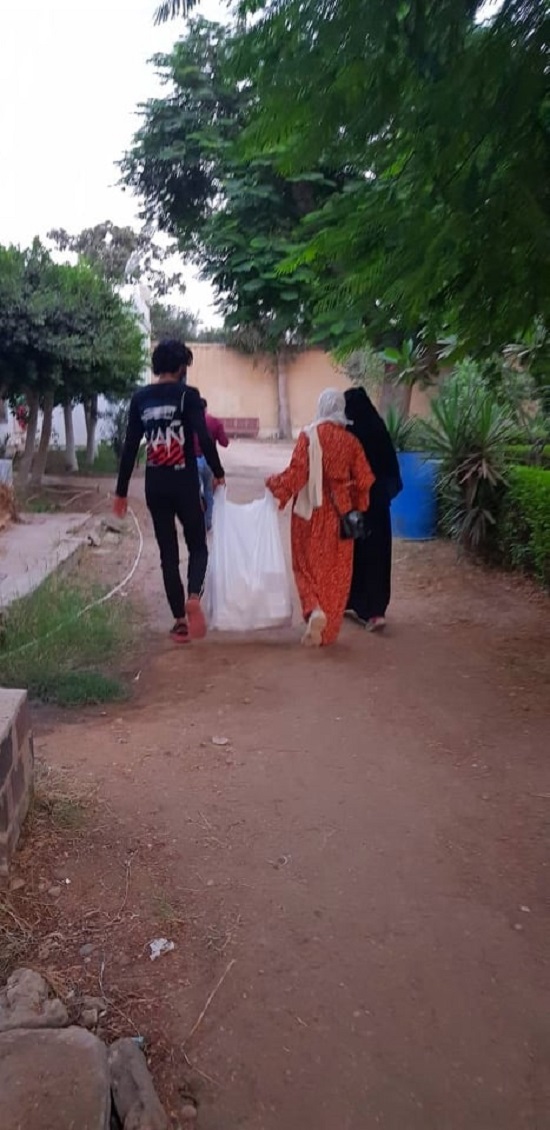 Distributing food to the needy
Shajn Zein, a graduate of Biology Education, Ain Shams, who lives in El-Saff City, Giza Governorate, talked about her charitable activities with her friends. By creating a group on the "WhatsApp" application, in which I gathered my friends, and each one of them was donating what he could afford, and I began distributing food to needy cases in my area."
And about meals, she said: "We make all kinds of food, such as bechamel pasta, meat, chicken, kofta, panne, stuffed and koshary, sweets and fruits, and we distribute food to the poor, orphans and patients, such as Corona patients, and the elderly who live alone, and sometimes we go to hospitals."
Hajar and Nada design smart clothes for breast cancer patients


Hajar Mahmoud and her friend Nada Tarek lived through the suffering of the mother of their common friend with breast cancer, which made them think about designing smart clothes equipped with a sensor, to help patients.
Hajar Mahmoud, a graduate of the Faculty of Applied Arts, Benha University, Department of Ready-made Garments, spoke about her project to design smart clothes for breast cancer patients, for "The Seventh Day", where she said: "I thought, my friend and partner in the project, Nada Tarek, a graduate of the same college and department in clothing design. For breast cancer patients, because the mother of our friend was suffering from a malignant disease, and we were seeing that she was suffering from the disease, and we designed smart clothes made of cotton, equipped with an Ultra Sonic Sensor, a sensor that emits a sound when someone close to her arm, and this is in her hands An opportunity to explain her condition and the second person starts to move away from her, and we designed clothes with cheerful drawings like butterflies and we used the color pink."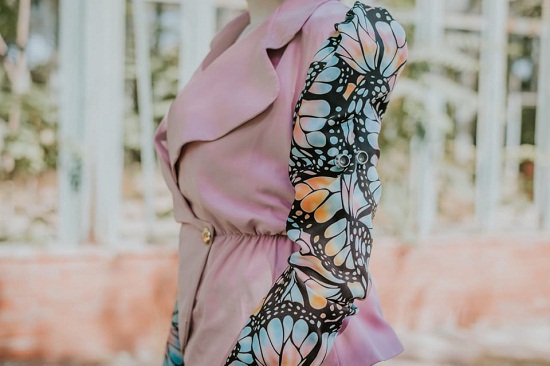 cancer patients dress
Hajar and Nada dream that their project will grow and their idea will reach many breast cancer patients, to help them maintain their safety when walking on the roads.
.
#International #Day #Friendship #Egyptians #set #wonderful #friendship #goodness #business
Jordan Miscellaneous news
Source : اخبار الاردن