Mix
After the rumor of its cancellation, the strangest and funniest items on the list of marital movables
Amman Today
publish date 1970-01-01 03:00:00


"Whoever is entrusted with the offer does not ask for money." The basis of marriage is affection, mercy and participation, and it is natural that when a man and a woman decide to marry, they are in agreement that their marriage extends throughout their lives, and there is no intention of divorce and problems, so the list of movables is considered a valueless measure, and when it is completed Approval of it is by appreciation and respect, but there are those who exaggerate and write non-existent items or write incorrect prices, and there is a list of marital movables with unnatural and unrealistic items that "The Seventh Day" reviews as follows:
Teddy bear set two pieces
Ahmed Safwat, a single "engineer", said that he did not object to the existence of a list of marital movables, and indeed he intended to sign when he was engaged, but he noticed that he wrote down 2 bears at a price of 1,000 pounds, and Safwat confirmed that it was a joke that he demanded to see them, and he found that he is Whoever bought them and their prices did not exceed 200 pounds, hence he refused to sign the list of movables and the marriage did not take place.
A list of movables in one million pounds and the apartment is empty:
Muhammad Sami confirmed that during his stay in one of the Arab countries, he proposed to a girl whom he met through one of his friends, and agreed with her family that he would send them first-hand to finish the apartment, and indeed he did so, and they sent him pictures of the house first-hand and after finishing the bedding of the apartment and determining the date of the marriage They insisted that he sign the list, and given what he saw of the pictures of finishing and bedding, he agreed to sign, then he returned from traveling and went to his house and found him as he had left him and discovered that they were sending him fake pictures, and the divorce took place after a while due to problems after he proved the fraud trick.
Farah dress:
Majed did not object to signing the list of movables, but he found that it contained a wedding dress for 20 thousand pounds, which the bride had rented, but he objected to this item and deleted it and signed the list to complete the marriage.
List of marital transfers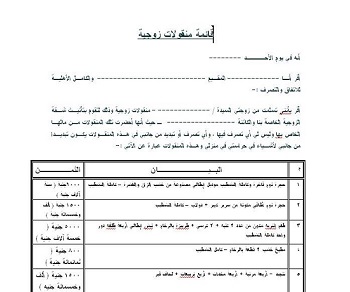 movables list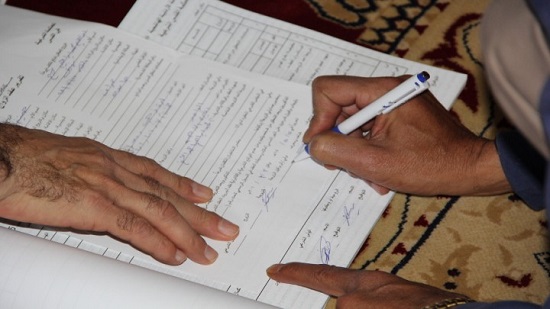 Write the list
.
#rumor #cancellation #strangest #funniest #items #list #marital #movables
Jordan Miscellaneous news
Source : اخبار الاردن