Mix
What is the Kakitsuji technique? And how do you use to repair damaged clothes?
Amman Today
publish date 1970-01-01 03:00:00

As fast fashion is more common than ever, repairing clothes is not as necessary as it used to be, and when one of your socks rips, just throw them in the trash and get a new pair, they are cheap and readily available, and the same goes for any Almost another garment, so needle and thread repair is a craft that is slowly disappearing, but what about specialty clothes? What happens when something special and dear to our hearts is damaged? Not only can you go out and exchange something of sentimental value, but you can't wear it with a hole in it either, and this is where the magical art of kakitsugi comes in.
A piece of cloth before and after repair
This unique fabric repair technique is all about repairing damage such as holes in the fabric or torn threads so badly that the garment looks as good as new, and it looks too good to be true, but there are plenty of screenshots available online that document the procedure and the amazing result.
A few years ago, a news report about Kakitsugi was spread to a South Korean TV station SBIt focused on the work of Japanese craftsman Takao Matsumoto, who has been using the technique to restore clothing for more than 55 years, although Matsumoto is not the only one familiar with the art of kakitsugi.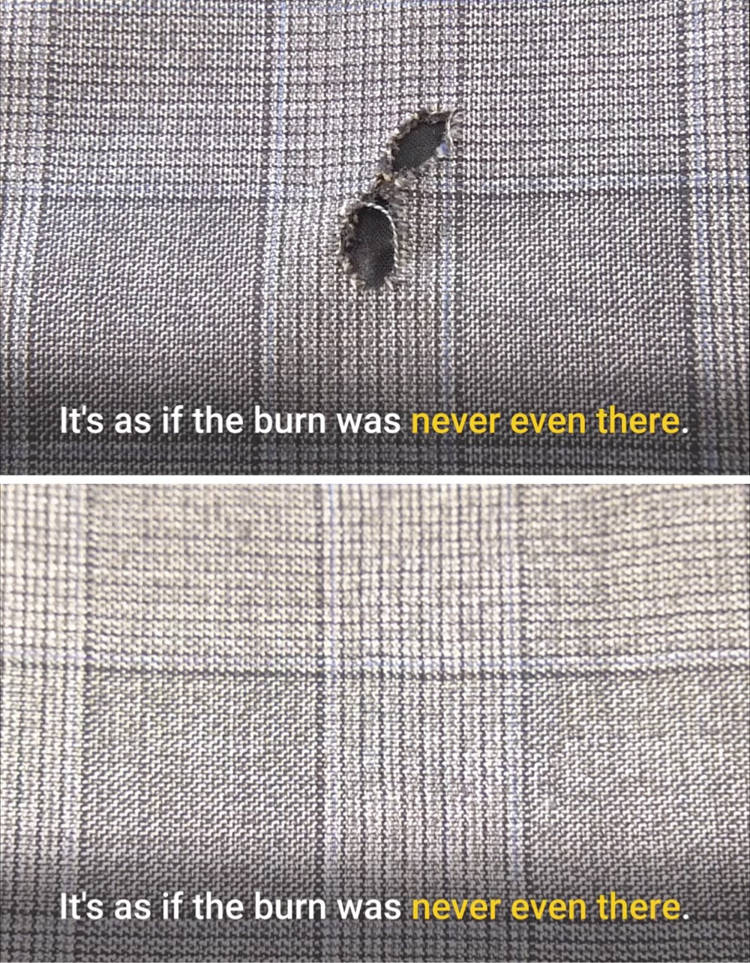 Models for repairing clothes
The "kakitsugi" is a laborious process that begins with removing a small piece of fabric from the inside of the garment, where its absence can be noticed. This piece is then cleaned with an acetone-based solution that makes removing individual threads a little easier.
Stripping the cloth into individual threads is probably the most effortless part of kakitsugi, but masters of the craft claim that using exactly the same fabric as the fabric from which the garment is made is necessary to make the repair ultimately invisible.
Then the newly obtained threads are carefully sewn over the hole or damaged area of ​​the garment, from multiple directions, and from both sides of the fabric. Once the sewing process is complete, an adhesive bond is placed over the repaired area, and the remaining threads are used to conceal the damage further. By the end of the process, it is almost impossible to see where the hole was in the first place.
According to the site Kimono TotonoeA company that claims to employ kakitsugi masters, repair prices start at $136.
Repairing an invisible kakitsugi may seem costly, but its user should bear in mind that it is usually intended for special garments of sentimental or historical value, in addition, the sheer labor and time it takes deserves appropriate compensation.
.
#Kakitsuji #technique #repair #damaged #clothes
Jordan Miscellaneous news
Source : اخبار الاردن