Mix
So that they don't steal your food.. Determine the type of music that keeps seagulls away from passersby
Amman Today
publish date 1970-01-01 03:00:00

We often watch funny videos of seagulls swooping on a plate full of potato chips or trying to eat a piece of ice cream carried by a passerby on a beach, which causes some to feel uncomfortable and avoid the places where this type of bird resides.
and cooperated Deliveroo With expert seagulls, Dr.Madeleine Gomas to create a sausage bird game known as "Bye Gull Bye"Which turned out to be the tones of the game that sounded like the sound of hawks and eagles, which the seagull fears, so it helped drive the seagull away, according to the British newspaper "Metro" website.
Dr Madeleine explained, "My research has shown that the sounds of birds, such as hawks and eagles, that come from the game. "Bye Gull Bye"can deter seagulls and other birds from that area, because they are aware of the specific sounds made by their predators, and the song composed includes a number of different sounds from the mentioned birds of prey, high-frequency sounds and noises and this is an initiative that helps passers-by enjoy their summer vacation without the threat of unsuspecting birds desirable and all while not harming them."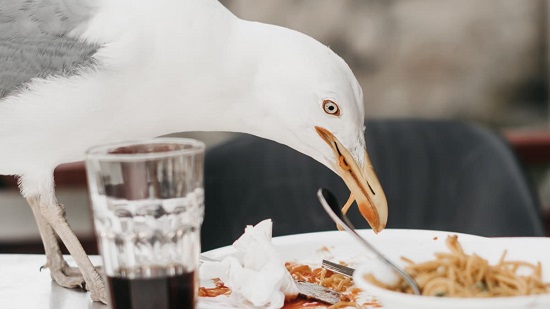 seagull eating food
And songs that include the sounds of birds of prey, are spread on various Internet sites, such as "YouTube" so that passers-by, while walking on the sea, can play them to drive away the seagulls.
Another image
.
#dont #steal #food #Determine #type #music #seagulls #passersby
Jordan Miscellaneous news
Source : اخبار الاردن