Mix
The will breaks the odds. A "blind" basketball player scores a goal in an amazing way, "Video"
Amman Today
publish date 1970-01-01 03:00:00

Silence prevailed in a crowded gymnasium of 2,500 people as a blind 17-year-old named Jules Hoagland prepared to throw a basketball game.
Appeared in the video posted by the site mlive the girl gets help from her colleague to tell her in a good way where to put the ball, by hitting the back of the basketball hoop with a "stick", then stepping aside so that the girl can focus on making the free throw.
The girl managed to put the ball in the basket perfectly, and immediately there was noise in the gym celebrating a good throw of the ball, and the girl says in a statement after the throw, "I was really nervous because all these people were staring at me, luckily, I couldn't see them staring at me."."
Blind girl getting ready to throw the ball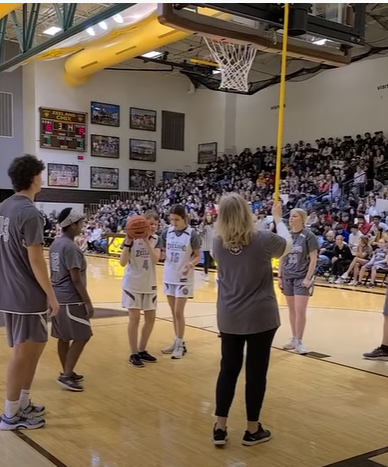 The player is ready to throw the ball
She added, "Yeah it worked, that was the only thing I was thinking about, I was really excited, I was honestly proud of myself."
And play the girl Hoogland In the basketball team Zeeland's Unified Sports The team was playing its last game of the season at a school gathering on Tuesday, March 22nd, when the girl played her last pitch in front of 2,500 students and staff from other schools. Zeeland East And the West high school.
.
#breaks #odds #blind #basketball #player #scores #goal #amazing #Video
Jordan Miscellaneous news
Source : اخبار الاردن