Mix
Kate Middleton elegant in a bright green dress to attend an official dinner in Jamaica.. Photos
Amman Today
publish date 1970-01-01 03:00:00


Kate Middleton, Duchess of Cambridge, wore an elegant green dress, signed by British fashion designer Jenny Packham, to attend an official dinner at the end of the fifth day of her tour of the Caribbean region, accompanied by Prince William, Duke of Cambridge.

Kate wore a sparkling tulle dress with very precious diamonds, which Kate borrowed from Queen Elizabeth, and coordinated Her elegant look with matching emerald and diamond earrings and a bracelet loaned to him by Queen Elizabeth, according to the British Daily Mail.

Meanwhile, the Prince of Wales, too, looked elegant in a black tie when they came to a dinner hosted by the Governor-General in their honor in King's House Prince William received minutes of applause after expressing his "sadness" over slavery in a seven-minute speech to Jamaica. William and Kate met Jamaican leaders at the palace.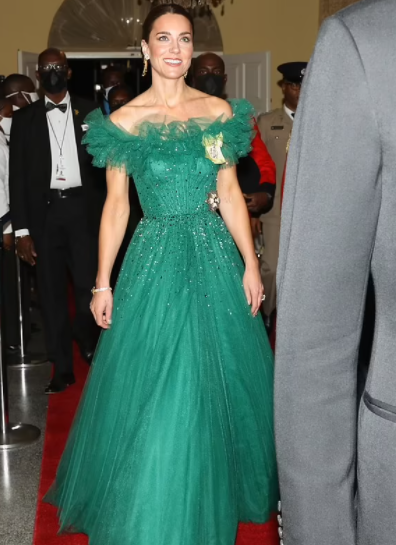 Kate Middleton during the royal overseas tour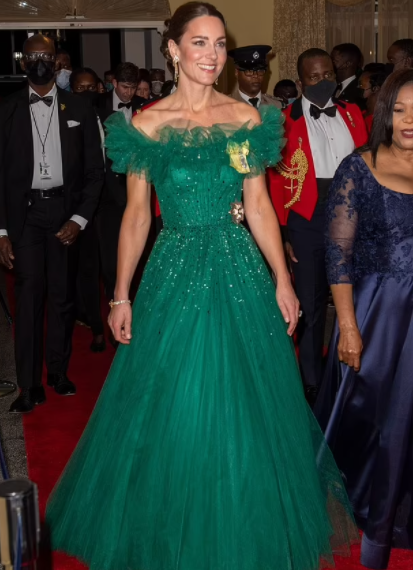 Kate Middleton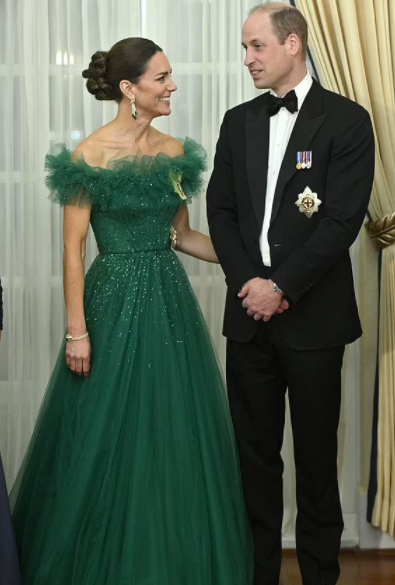 Kate and William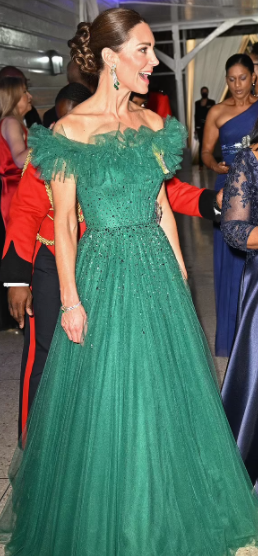 Elegance Kate
Kate Middleton appeared elegant while visiting the Belize jungle on the third day of their Caribbean tour while holding a survival training course in the woods. William and Kate visited the British Army Training Support Unit (BATSUB), which has provided training in the equatorial environment for troops from the UK along with international partners, according to the British newspaper, "Daily Mail".
Kate wore a pink, shimmering £2,500 dress by Design The Vampire's Wife She completed her look with silver heeled sandals, and the Duchess wore gold diamond drop earrings, light makeup and an embroidered handbag, while William wore a blue jacket and a navy shirt..
and became famous The Vampire's Wife Launched by a former supermodel Suzie Cave In 2014, she dressed in the prairie and is loved by the royal family, especially Kate, who previously wore one of the label's dresses in Dublin during her three-day tour of Ireland in March 2020..
During the reception, Prince William addressed the Mayan ruins and spoke of the conflict in Ukraine saying "Democracy was being tested" and he also referred to his grandmother's speech to the Belizean Parliament in 1994, when she said: "Democracy needs to be safeguarded." ".
.
#Kate #Middleton #elegant #bright #green #dress #attend #official #dinner #Jamaica #Photos
Jordan Miscellaneous news
Source : اخبار الاردن