Mix
An American woman surprised her deaf groom by using sign language during their marriage contract (video)
Amman Today
publish date 1970-01-01 03:00:00

The 23-year-old bride, Kelsey Collick, provoked her groom Michael to tears when she began to speak American Sign Language when performing the marriage contract and it was a surprising gesture for him and his deaf parents, and this moment was recorded in a video clip published on November 13, and the clip received more than 10 million views, according to the British newspaper, "Daily Mail".
The wedding video is 26 seconds long


The bride, Kelsey, wrote, in a comment on the 26-second video recorded from her wedding and posted on the application. TikTok Me and my lovely husband on our perfect day! So grateful for capturing this special moment."
Michael was amazed when he saw Kelsey use sign language during their marriage contract and tears welled up in his eyes, realizing that she only did it for his parents and deaf relatives.
On the other hand, the bride indicated during her conversation with the newspaper that she was worried that something might go wrong or offend someone, by mistake while performing the sign language in the wrong way, but she was surprised by her success and that Michael's parents liked the idea.
Kelsey hired Michael Christie's aunt, who is fluent in sign language and her husband is deaf, and asked her to teach her in secret. On the day of the wedding, the bride told videographer Chandler Smith and Reverend Harvey that she would speak sign language during the marriage contract.
And the video clip, in which the bride appeared, speaking in sign language, spread on social media, and garnered more than 10 million views and more than two million likes, and about this moment the bride said: "This was important to me because this is the way to communicate with their families..Even though I don't speak fluently, I wanted to do it out of respect for them and to show them everything I love and I am so grateful to have become a part of their family."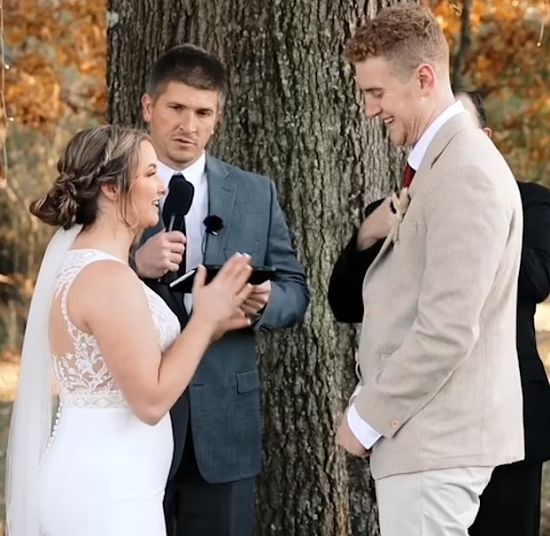 Another picture from the party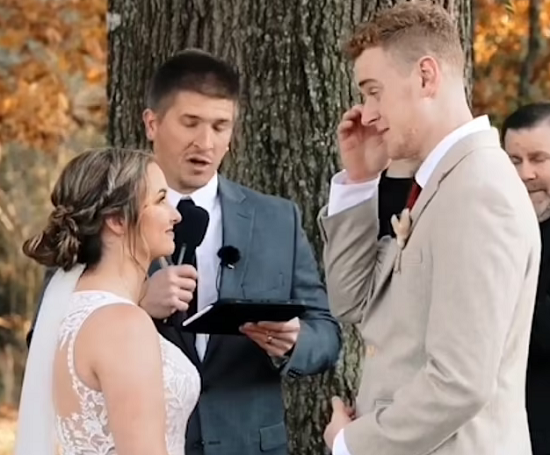 marriage contract
.
#American #woman #surprised #deaf #groom #sign #language #marriage #contract #video
Jordan Miscellaneous news
Source : اخبار الاردن