Mix
A breathtaking scene.. A raging bull stormed a school in the Iraqi city of Basra.. Video
Amman Today
publish date 1970-01-01 03:00:00

A video clip of a raging bull storming a primary school in the Iraqi city of Basra has spread on social media, and the video clip taken by the surveillance cameras appeared at the moment the bull stormed the school, causing a great state of panic and stampede among the students and everyone who was present in the school yard at that. the time.
A report published by the "Russia Today" news network indicated that the raging bull caused injuries among the students, and it appears that the bull was tied and managed to escape from its owner, while the rope remained hanging in its head and neck.
The bull in the schoolyard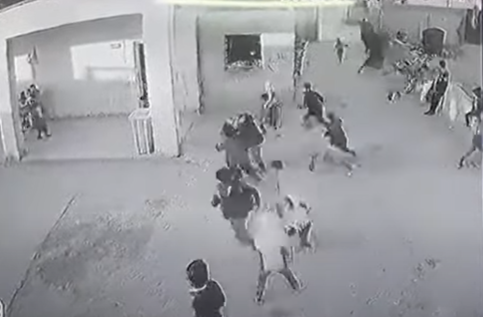 The school
In another similar incident, a video clip – earlier – documented the moment a buffalo stormed a restaurant, attacked a customer, and threw him high. In the video clip, apparently filmed on the last day of December 2021, and circulating days ago on social media, two men can be seen standing inside a restaurant, and while one opens a drink and the other is busy with his smartphone, a huge buffalo appears through the entrance, and sends a customer out of sight of the camera.
About 20 seconds later, the buffalo returns through a different entrance, smashing the furniture with its horns and hooves and then exits the door from where it first entered..
A rope can be seen hanging from the animal, leaving commentators wondering if it survived being slaughtered by a butcher. According to the "Russia Today" website, the accident occurred in the eastern city of Taizhou, and the man who was attacked was taken to hospital with injuries to his leg.
.
#breathtaking #scene #raging #bull #stormed #school #Iraqi #city #Basra #Video
Jordan Miscellaneous news
Source : اخبار الاردن