Mix
"Unicorn cake" raises a state of ridicule on Facebook in Britain.. I know the story
Amman Today
publish date 1970-01-01 03:00:00

A British mother has turned into a trend on social media, after she failed to make a trendy unicorn cake for her daughter's birthday using pre-made candy she bought from a supermarket.
The mother was planning to buy the famous "unicorn" cake by ordering it through the "Instagram" website, But she realized that it was difficult to find it in stores, and searched a lot until she found one and bought the cake for sale in a supermarket, but it was damaged, according to the British newspaper "Daily Mail".
The original design of the cake was covered in white cream with a rainbow on the head of the unicorn, which was also decorated with a golden horn and adorable smiley eyelashes on the front of the cake, but Lauren's alternative looked like a unicorn hybrid with goofy eyes and a huge smiley face on top. Sharing photos of her damaged cake with her friends on her Facebook page, Lauren wrote: "This might make you laugh, it definitely made my husband laugh so hard."
She continued: "My daughter is adamant that she wants a unicorn cake for her birthday, since we are such naive parents, we assumed it would be easy to find, and left it for the night before, before Christmas."
She added,Needless to say, two visits to the supermarket and multiple calls around the stores we would only be able to find one cake that collapsed from the shelf to the floor."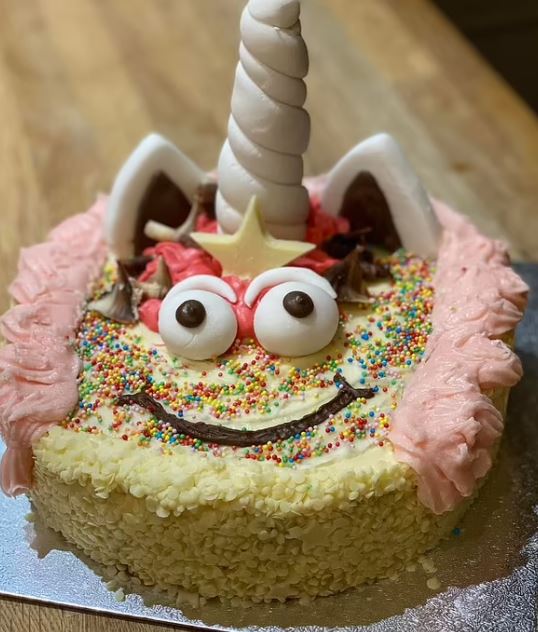 damaged cake
.
#Unicorn #cake #raises #state #ridicule #Facebook #Britain #story
Jordan Miscellaneous news
Source : اخبار الاردن