Mix
Stay in soapy water instead of tissues.. Simple tips to remove makeup before bed
Amman Today
publish date 1970-01-01 03:00:00

The beauty of a woman lies in the freshness of her skin, and this comes with complete cleaning, by following several methods that help clean the skin on a daily basis before bedtime to remove makeup by washing the face or using a cleaning product, and to clean the face properly, we review in this report, several tips that help remove Effects of make-up, in a safe way on the skin, according to the website glamor".
Daily makeup removal tips:
Soap and water are better than makeup wipes
Make-up removal wipes are an excellent initial step before cleaning, but the face must be washed with water, as the makeup expert Azra Red advised, saying: "Using water and face wash is what removes the remnants of make-up before bed, but if you use make-up wipes, you must use a moisturizer for the skin, to prevent drying out.
Cleaning the edges of the eyelid
Attention must be paid to cleaning the edges of the eyelid, in which traces of eyeliner and mascara accumulate over time, which leads to eye irritation, and makeup expert Nick Barrows says: "It is preferable to put olive oil on a piece of cotton to clean the edges of the eyelid.
Push the hair back and clean the hair line
Makeup residue accumulates around the hairline, which leads to clogged pores and cracks, so it is recommended to wear a headband at all times to ensure that every trace of makeup is removed.
Flat cotton pads are better than cotton balls
Cotton balls can leave behind a residue of makeup during use, whether on the eyelashes or the skin, says dermatologist Rebecca Kazin, and this can lead to skin irritation, so it's best to choose flat cotton pads instead of balls.
Moisturizing the skin after removing make-up
Dry skin must be moisturized after removing makeup, such as applying a balm after removing lipstick, as well as a moisturizer for the skin after completely removing makeup residues, in order to obtain moist skin all the time.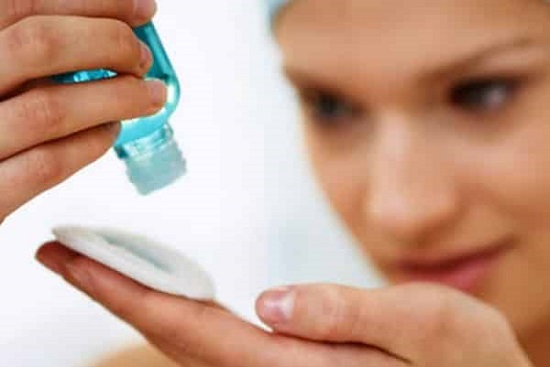 Remove make-up with lotion
.
#Stay #soapy #water #tissues #Simple #tips #remove #makeup #bed
Jordan Miscellaneous news
Source : اخبار الاردن