Mix
Huanlili and Yuanodo.. panda twins meet French zoo visitors for the first time
Amman Today
publish date 1970-01-01 03:00:00

Four months after the birth of panda twins Huanlili and Yuanodo in France's Beauval Zoo, Saturday was their first meeting with visitors, some of whom came from far away to attend the event. "We are such a fan of these animals, we couldn't help but be present, we booked a room a long time ago to be the first people here," said Veronique, who came specially from Bordeaux in southwestern France, dressed in pandas.
unique animals
As for Agata Boucher, who came from Montpellier (southern France), she told AFP: "As soon as I knew the date, I booked a place to stay in the area. I am a fan of these animals. They have human looks and sometimes gestures, and they have a carnivorous digestive system but they eat." Bamboo. In short, pandas are out of the ordinary."
"This is an important day because the visitors are Beauval's life," said Baptiste Molo, a veterinarian at the Zoo Park in Saint-Annian, central France.
Molo pointed out that they are in very good health, each weighing about 7.4 kilograms, and they are breast-feeding milk from their mother, Huan Huan, a female panda loaned from China.
The twins were born on August 2, in Beauval Park, the third young panda husband Huan Huan and her partner Yuan Zi after the first born of the female in France in 2017, named Yuan Ming.
Peng Liyuan, the wife of Chinese President Xi Jinping, usually chooses Chinese names for pandas, and the twins were chosen by the French public through an online vote, in which 122,000 people participated.
Visitors in the French Garden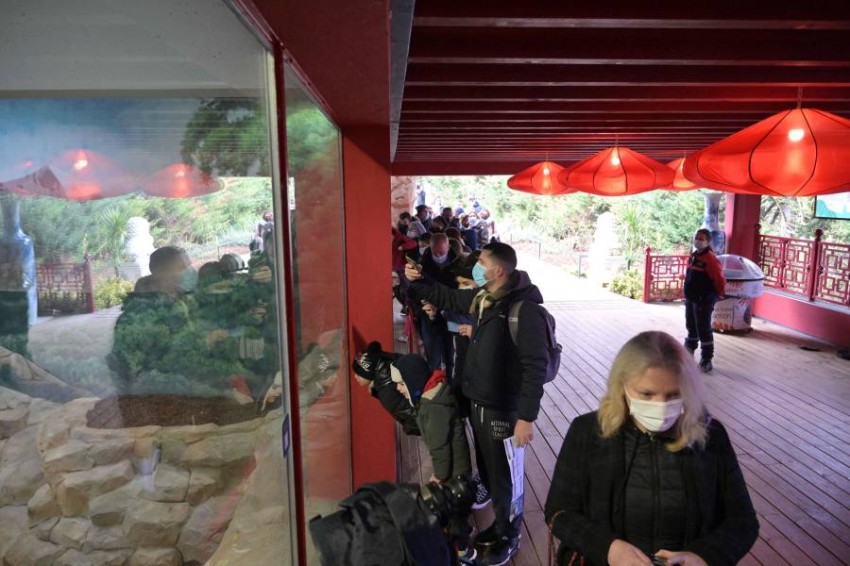 Visitors waiting for the panda
panda twin
.
#Huanlili #Yuanodo #panda #twins #meet #French #zoo #visitors #time
Jordan Miscellaneous news
Source : اخبار الاردن